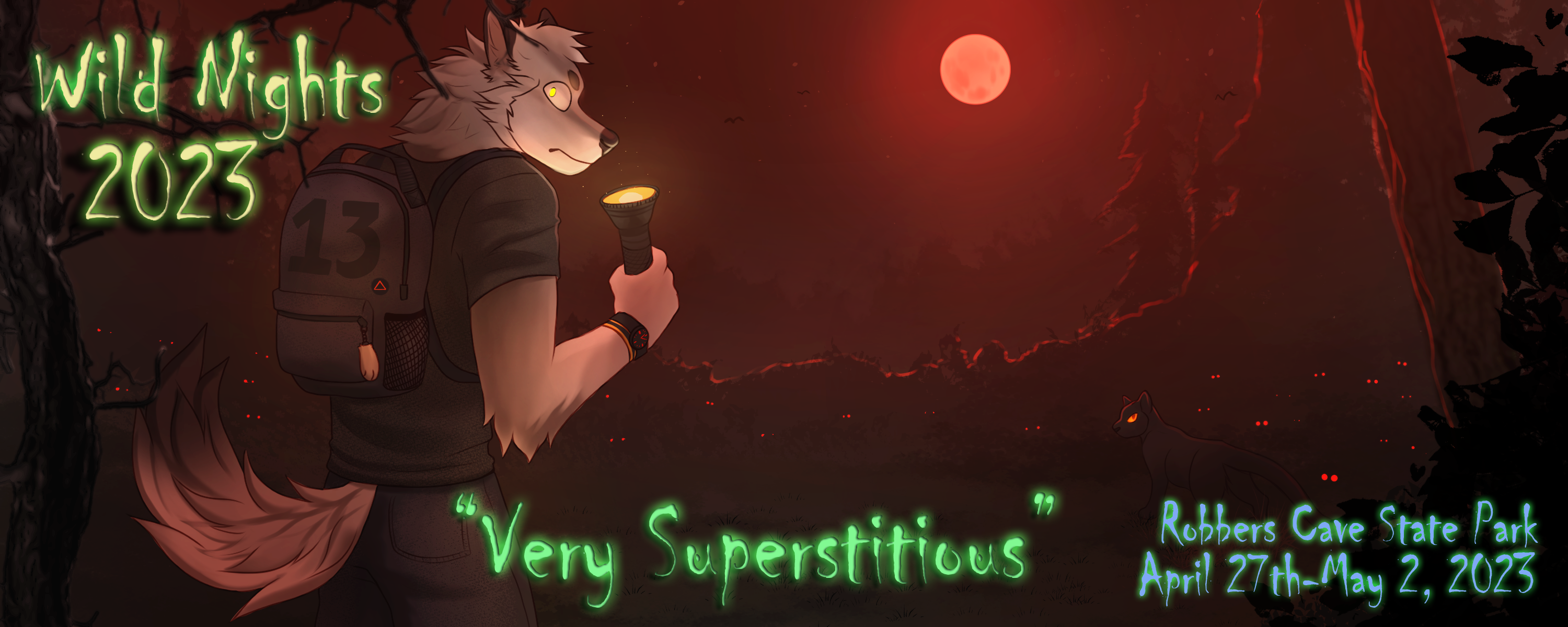 Wild Nights 2024
Wild Nights 2024 (The Rawrin' 20s) will be held Thursday, April 25th to Tuesday, April 30th, 2024 at Robbers Cave State Park near Wilburton, OK. Hope to see everyone there!
Wild Nights 2023
Thanks to everyone who made Wild Nights 2023 a huge success! We had 163 attendees this year, and raised nearly $1500 for our charity. It was wonderful to see everyone, and hope to see you back next year! Tell your friends -- remember the predator-prey program. If someone pre-registers for Wild Nights and pays before the end of pre-registration, and names you as the person who recruited them, you get a $5.00 credit that you can use toward your own registration or for future events or merchandise (e.g. T-shirts).
Payments Closed for Wild Nights 2023
Paypal Payments have closed for Wild Nights 2023. If you have not paid yet, you will need to pay at the door. Thank you and looking forward to seeing everyone at Wild Nights 2023!
Our Charity
Our charity this year is Oklahome Exotics Rescue and Sanctuary, formerly known as Snakes Alive. They are a rescue and adoption group specializing in reptiles and birds, but also branching out into helping other animals. They have already been a part of our community for several years and we are pleased to have them back yet again!
Their website can be found at https://oklahomarescue.com.
Medical Marijuana Rules
Oklahoma has recently updated their laws to legalize medical marijuana. We are following state law as per the park. A link to Oklahoma's medical marijuana laws:
Medical Marijuana Laws as of 9 March 2019
Wild Nights Rules for the Use of Medical Marijuana
Knowledge of Oklahoma state law toward the use of Medical Marijuana is the responsibility of the card holder and ignorance of the law is never an excuse. If there are any questions, there will be a copy of current state laws available to read in Con Ops.
Medical Marijuana use IS allowed on the campsite, within designated areas, of our convention to valid Oklahoma Medical Marijuana License holders and those possessing a valid Oklahoma Temporary Patient License. Oklahoma does not allow reciprocity with other states' medical marijuana cards except through it's Oklahoma Temporary Patient License, meaning that Wild Nights will not be recognizing out-of-state licenses.
If you are not an Oklahoma resident, then you will need to get a Temporary Patient Permit. Information is available here: Temporary Patient Application Information. If you have questions, contact our security officer.
Medical Marijuana use is only allowed within designated areas and these areas are restricted to valid card holders, staff, and security personnel. Upon request of staff or security personnel, all people within the designated areas MUST provide their valid license.
Sharing of Medical Marijuana, even between two valid license holders, is strictly forbidden.
Medical Marijuana may NOT be stored in the cabins. Medical Marijuana must be either in your direct control at all times (in a pocket, bag, purse, etc.) or stored securely in your vehicle.
All medical marijuana discovered, unattended, will be destroyed immediately.
THE USE OR POSSESSION OF MARIJUANA BY THOSE NOT POSSESSING A VALID OKLAHOMA MEDICAL MARIJUANA LICENSE OR TEMPORARY PATIENT LICENSE WILL BE TREATED AS ILLEGAL POSSESSION OF A CONTROLLED SUBSTANCE AND THE MATTER WILL BE HANDED OVER TO LOCAL LAW ENFORCEMENT.
Any questions about this topic, please contact our head of security via security

wildnights.org.